Everyone knows that Christmas is the time of year when all the best food comes out to play. It's the time of year when it's socially acceptable to drink Baileys at breakfast and your own body weight in chocolate throughout the day. There are tubes of pringles everywhere, and you vow that you'll save the box of Roses until the big day. We all know you won't, so just open them already.
Today I'm going to be listing my favourite Christmas foods, in no particular order. I do have them throughout the year, however, at Christmas, it all seems that bit yummier.
Turkey, roast potatoes, carrots, green beans, parsnips, sprouts, Yorkshire puddings, gravy, cranberry sauce etc. Of course, you can have this every Sunday throughout the year (only on a Sunday, mind), but to have it at Christmas in the middle of the day with every vegetable and condiment out there is something very special indeed. What do you have for your Christmas dinner?
Usually, I'm not all fussed about Christmas cake/puddings. However, this year I have such a hankering for it. I'm loving the texture, tastes and everything about it. I think I might have to buy a massive one just for myself?
If you don't have a Heroes tin full of Bounty and empty wrappers come New Years, did you even have Christmas?
When the Twiglets tin comes out of the cupboard, it's only a matter of time before I have my hands nearly stuck in the tube. I don't know about anyone else, but I can't just have one Twiglet, I want the whole damn tree.
Gingerbread-Flavoured Things
costa have Gingerbread Lattes available year-long. However, it's the Starbucks' Gingerbread Latte with gingerbread cream and sprinkles that really jingles my bells. Gingerbread and cinnamon are the smells of Christmas.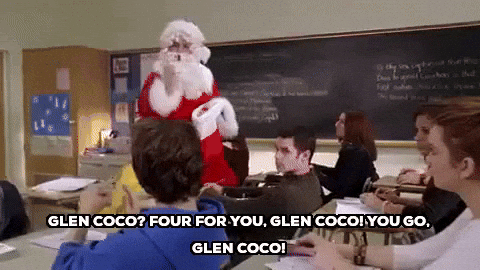 Sorry, Gretchen Weiners. They go on the tree but don't stay there. What's the point of putting them on? I should just put them straight in my mouth.
Turkey, Cranberry, and Brie Sandwiches
I love me some Turkey, cranberry and Brie sandwiches. They only come out this time of year and I wait with baited breath for them to hit the shelves.
Savoury Buffet Finger Food
It seems only at Christmas you can buy an Iceland's £5 party platter, and it's perfectly acceptable to eat it all one evening when you fancy treating yourselves watching television. It's great because you can cook it all at the same time and is perfectly bite-sized. I could eat deep fried sesame seed prawns all day long.
I hope you all fill up on festive treats and end up rolling around like Violet Beauregard in Willy Wonka and the Chocolate Factory.
Make sure you check back for another instalment of Blogmas.
See you next time!